Brewing up a truly Echo Park beer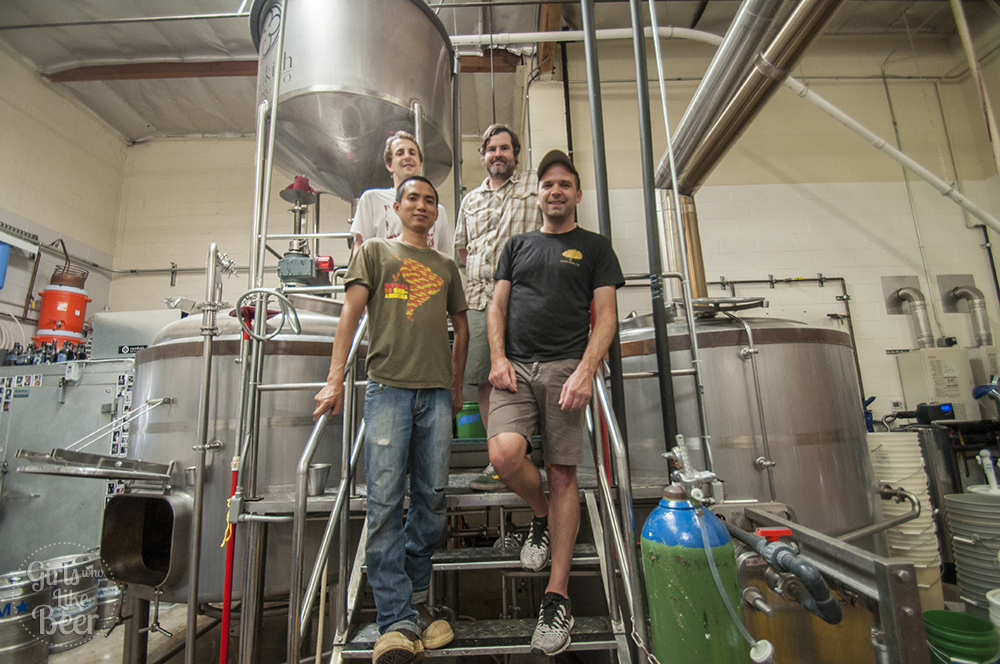 For the October issue of Beer Paper LA, I wrote an article on one of many brew days at Monkish Brewing in Torrance for the new Sunset Beer Company anniversary beer collaboration. This is that story – elaborated, elongated and with a couple of more photos. Look out for the article in the latest issue releasing after October 4 around Southern California craft beer spots. My thanks to Aaron Carroll and John Verive of Beer Paper LA for their guidance and for the opportunity.
When Monkish Brewing first opened, co-founder Henry Nguyen would drive kegs and boxes of his beers all the way from the Torrance location up to accounts like Sunset Beer Company in Echo Park. Although Nguyen no longer self-distributes, the relationship he had developed with the Echo Park bottle shop led  Sunset Beer Company manager Jeff Sapsford to ask Nguyen to help them do something they've never done before: brew an official Sunset Beer Company beer.
The two teams have been meeting up over the past few weeks at the Torrance brewery for brew days, during which Sunset Beer employees have helped with the brewing process from mashing in to cleaning, bottling and kegging. Brewing in this size of a brewery takes some effort, so it's helpful to have the extra hands although I was happy to stand aside and let the staff rake out all the spent grain (which Henry gives to a local farmer which he feeds to his dairy cattle).
As the brewing process ensues, there is some down time. After mashing in, Henry gave us a tour of the brewery, taking us through stacked bags of malts, past dozens of barrels they're holding for Phantom Carriage (opening soon in Carson), to their bottle conditioning room and past a few new foudres. Though they are each about 22 years old, Monkish has had them for a couple of months now and are producing some sours in them, which I'm sure will be amazing but also a new challenge for Monkish.
"There's the element of the unknown with wine barrels," said Henry. "The risk of failure is high… and I like that challenge."
Back to the beer brewing
The beer itself, aptly named Sunset Beer, is a Belgian-style Wit with an expected ABV of around 4.7%. The brew contains German Pilsner malts and wheat malts, is spiced with orange zest, and hopped with East Kent Goldings and Santiam, plus Mosaic, Galaxy and Citra varieties. Officially, they are describing it as a "hoppy wheat with orange zest and lotus seed." The brew gets a real Echo Park flavor from the addition of lotus seeds.
Why lotus? Just down the road from the shop, Echo Park Lake has a newly renovated Lotus bed that has been a long-time symbol of the community. Traditionally, the lotus seed is used in everything from teas to dessert to Vietnamese sweet soup as well as traditional Chinese medicine. For brewing, the germ of the seed is first removed – it has an intense bitterness that wouldn't go over well in the beer. But while the raw seed itself has little flavor, it's on the starchy side (which may add to mouthfeel) and the brewing process may actually bring out more flavor as it's cooked.
"We first talked to Henry before our second anniversary last year about doing a collaboration," said Sapsford. "From the get-go we wanted to brew with an ingredient that would pay tribute to Echo Park, and with the lake reopening it did not take long before we both thought Lotus. We can only hope that our Sunset Beer is half as stunning as the lotus flowers that keep our neighborhood flocking to the lake every day."
The brew will be poured for the first (and limited) time at Sunset Beer's Three Year Anniversary Celebration this Saturday, October 4. Bottles will also be available once they have conditioned – look for them on the shelves of both the Monkish tasting room and at Sunset Beer Company around mid-November.
https://girlswholikebeer.com/wp-content/uploads/2014/10/SusnetBeer-Monkish-12.jpg
664
1000
Kelly
https://girlswholikebeer.com/wp-content/uploads/2015/04/GirlsWhoLikeBeer1.png
Kelly
2014-10-03 15:59:11
2015-04-23 22:36:04
Brewing up a truly Echo Park beer