Honey, bring home a bucket o' chicken?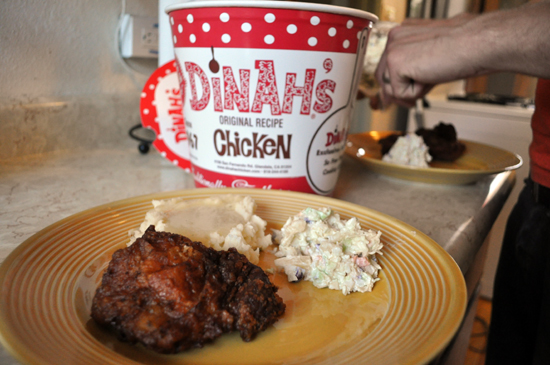 Today is National Fried Chicken Day! And even though about a quarter of Americans eat this kind of stuff every day, fried chicken is a luxury in our household – a special occasion to indulge one night just every once in a while. And forget KFC – our favorite local establishment for our fried chicken night is Dinah's Fried Chicken, located in Glendale but close enough to Atwater Village that it's a short drive (there's also a "Dinah's Restaurant" on Sepulveda Blvd.).
The "Family Special" includes 10 pieces and two medium sides for just $20 – not bad for a fresh-fried and extremely delicious meal plus leftovers, which honestly are my favorite (who doesn't like cold fried chicken for breakfast?). The chicken is deep fried and pressure cooked at the same time, giving it a nice moist inside with a super flavorful and crispy outside. We usually go for a side of mashed potatoes and gravy, but you can't ever leave Dinah's without a side of Pineapple Cole Slaw. Also on the menu to pair with the fried chicken: Potato salad, french fries, bean salad, fruit mellow, mac salad, corn on the cob, and mac 'n cheese.
Hungry yet?
If you're more adventurous than we are, LAist also recommends the fried liver (which is, of course, chicken liver and not the now-banned duck liver). They've also got seafood offerings, including shrimp and fish, and fried gizzards.
And don't forget to celebrate National Fried Chicken Day by pairing it with a nice cold one. We usually go for a tall glass of German Pilsner; the crisp, slightly dry, and light-bodied lager goes perfectly with the spices on the crispy chicken skin. If you're looking for something a little heavier than a Pilsner, don't go too dark – an amber ale or Oktoberfest will also go nicely.
Dinah's Fried Chicken is located at 4106 San Fernando Road, Glendale, CA
https://girlswholikebeer.com/wp-content/uploads/2011/05/Dinahs3.jpg
365
550
Editor
https://girlswholikebeer.com/wp-content/uploads/2015/04/GirlsWhoLikeBeer1.png
Editor
2012-07-06 13:00:54
2015-04-24 12:29:43
Honey, bring home a bucket o' chicken?