Beer blogging adventures with Firestone Walker: Part 3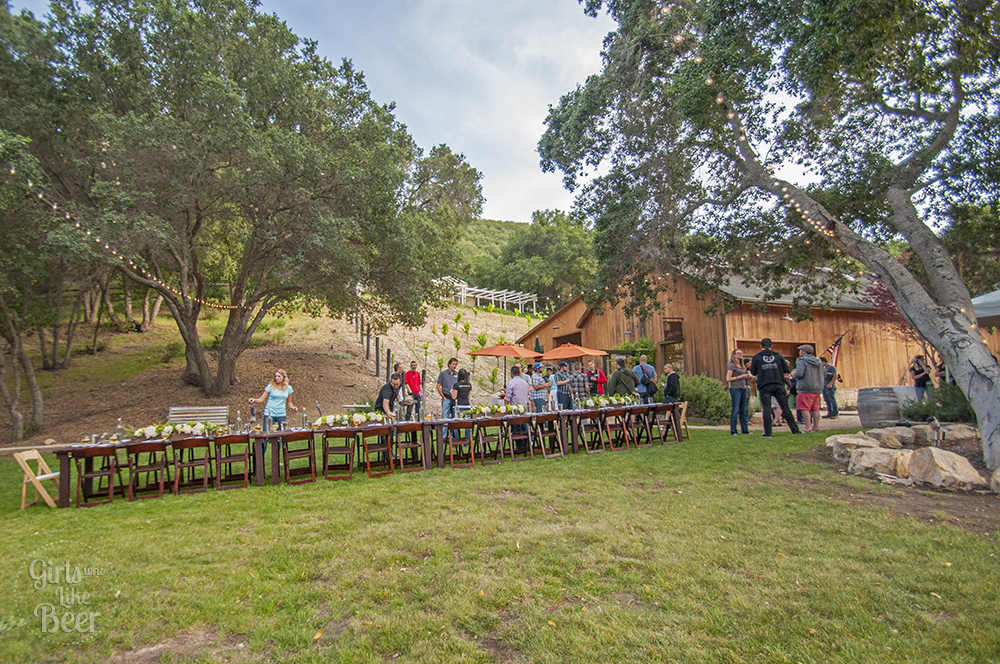 This is part 3 of 3. Read part 1 here and part 2 here.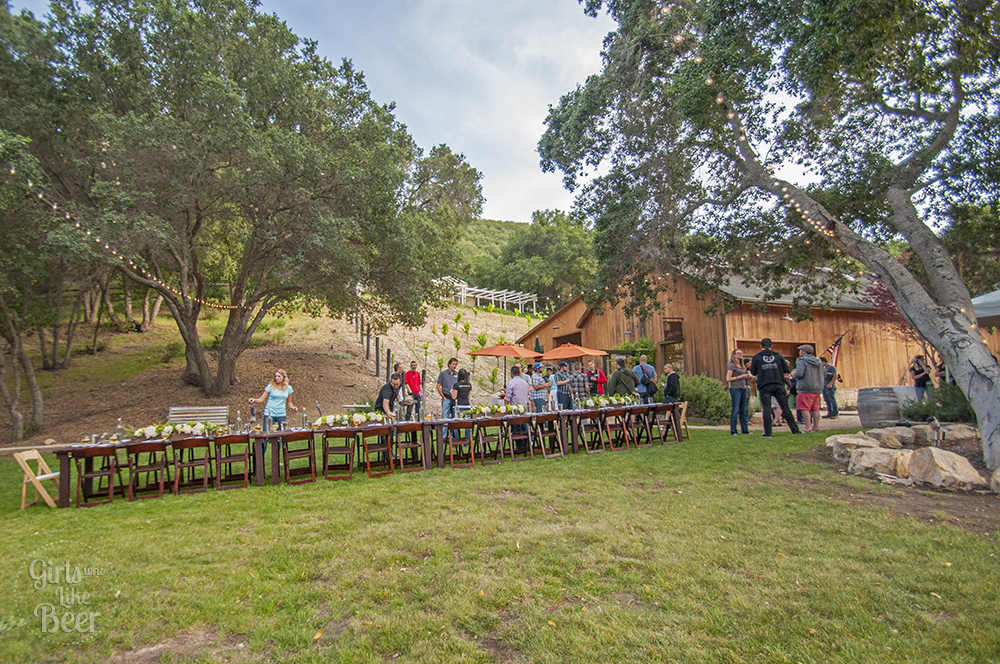 After a delicious lunch at the Firestone Brewery, we're back on the bus for a super top secret "surprise." We arrive at Villicana Winery, where owners Alex and Monica Villicana have not only set up a beautiful, long table on the lawn for dinner, but they've got something special inside.
They greet us with a palate cleanser of not anything wine-related, but with vodka, lime and dill. A quick rundown of the winery: the 13-acre winery only produces about 2,000 cases annually of nine different wines. After sipping on our palate cleansers, we're still wondering where this is leading… where does the beer fit in?
Villicana is also home to an extremely unique craft that you don't see at wineries – a distillery! They call the brand RE:FIND because they actually refine saignée (the runoff grape juice removed prior to fermentation), turning this juice into spirits like brandy, vodka and gin. It's sustainable, eco-friendly and practically genius – typically about 10-30% of the entire production of wine goes down the drain before the even start making the wine. Some wineries turn the juice into a Rosé. Ultimately, RE:FIND collects about 20,000 gallons of juice from the 16 wineries in the Paso Robles area.
One of the items they made especially for us was a white whiskey collaboration with Firestone Brewery, using a wash similar to Firestone's 805 beer, and appropriately naming it Writer's Blanc (get it?). The whiskey ends up being a potent but incredibly clean and drinkable spirit.
Before dinner we head straight into gin blending. Using beakers, pipettes and graduated cylinders, we played with a variety of different flavored spirits starting with juniper and lavender, lemon, cucumber, grains of paradise, and more. Our final blends were mixed up into cocktails to enjoy as we wandered over to the dinner table.
We were happy at this point – just completely tickled by the hospitality of Villicana. We could have left with happy bellies and smiles. But we sat down to an amazing five-course meal prepared by Firestone's Executive Chef Thomas Yun, and paired with cocktails prepared by mixologists Eric Carfagnini and Issa Emadi.
One of the cocktails is a gin and Wookey Jack concoction with mint that I could probably drink all day (see the recipe below). Having chosen the vegetarian option, I enjoyed an Heirloom tomato salad, Kohlrabi and kimchee, crispy eggplant, sautéed Shitaki mushroom with almond milk poached parsnips and finally a citrus carpaccio with candied lemoncello zest and fresh berries. The highlight was the kimchee salad with Union Jack blood orange sauce, grilled arugula and Fluer de Sel – it was Chef Yun's family recipe with a twist. I did actually nibble a tiny bit of octopus and rib eye because Chef Yun made it sound SO good – and it was. Hands down one of the best meals I've ever had!
Check out the photos below and try your hand at the Wookey Jack cocktail!
Recipe: RE:FIND Gin + Wookey Jack cocktail
2 oz Re:Find Gin
½ oz Lime Juice
½ oz Simple Syrup
5 Mint Leaves
Float of Wookey Jack Firestone Beer
Muddle, shake then strain over new ice, serve in a bucket class with a mint sprig garnish.
https://girlswholikebeer.com/wp-content/uploads/2015/01/Refind14.jpg
664
1000
Kelly
https://girlswholikebeer.com/wp-content/uploads/2015/04/GirlsWhoLikeBeer1.png
Kelly
2014-06-12 15:11:02
2015-04-24 09:27:42
Beer blogging adventures with Firestone Walker: Part 3