Drink your way through Atwater's Ozu East Kitchen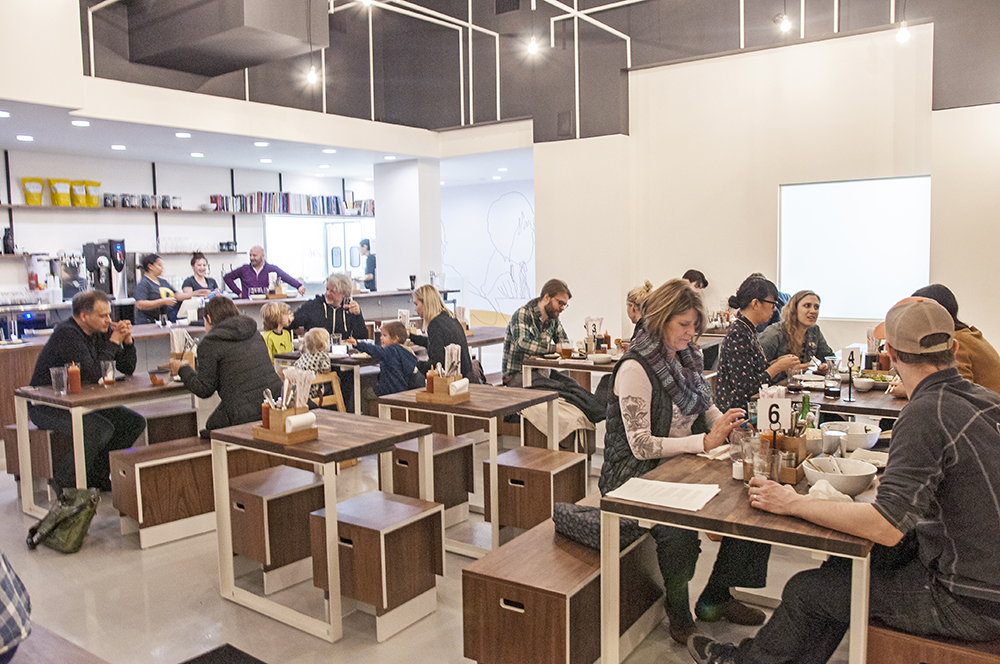 "There's a tradition that you never leave a glass empty," says Paul Yi while fidling our cups with of one of his favorite bottles of sake, Dassai, a high-polish sake with a floral punch. He stays true to his word, attentive at tables around the restaurant and even greeting customers as they walk through the door.
The new Atwater Village restaurant has turned a former upscale grocery market into a brightly lit modern space. This is Yi's first restaurant, but it doesn't feel like a first. The menu is sophisticated but accessible, featuring pan-Asian dishes with a focus on Los Angeles' favorite dish – ramen.
Where to start?
From the menu, Snacks and Starters are perfectly paired with sake, which features three of Paul's favorite brands and styles. You could go for wine to start, if sake isn't your thing, but the spice and smokey flavors of food pair so well with the floral/anise punch of, for instance, the Dassai sake.
Sake in hand, the Avocado "Toast" is not what would be expected (practically every LA menu has this) – the toast is a crispy rice cake smeared with an avocado-yuzu spread. The yuzu brings a splash of citrus which compliments the smoked kochujang and just a sprinkle of macha (for your health, you know).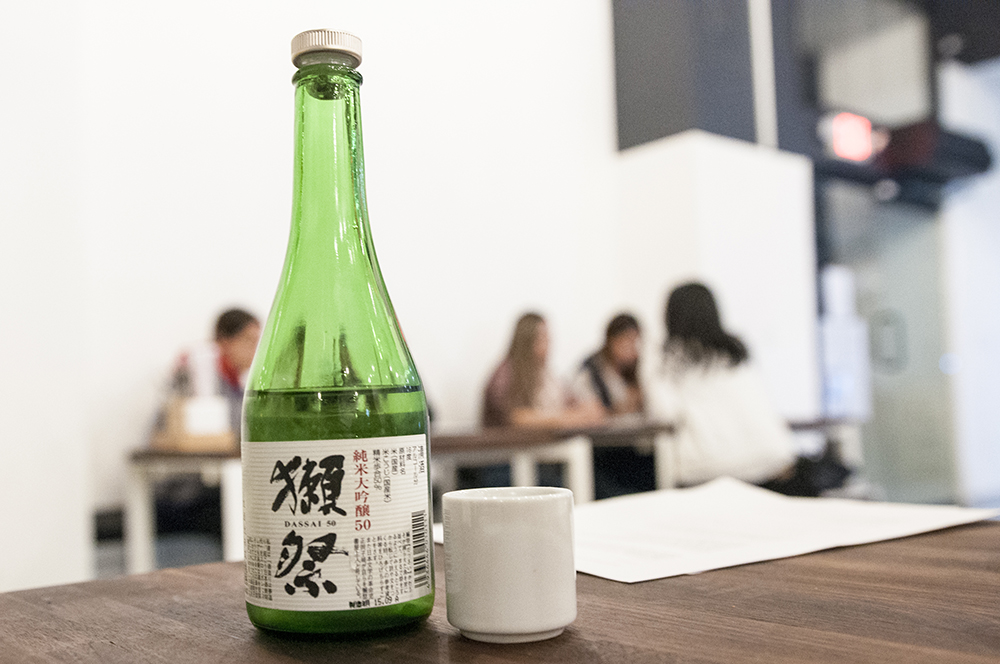 Blistered Shishitos sit atop a bed of smoked mayo and Japanese plums, thoroughly seasoned and, well, "blistered." These peppers always go great with beer – usually pretty mild with the occasional super spicy – but in this case it's a perfect companion to a floral sake.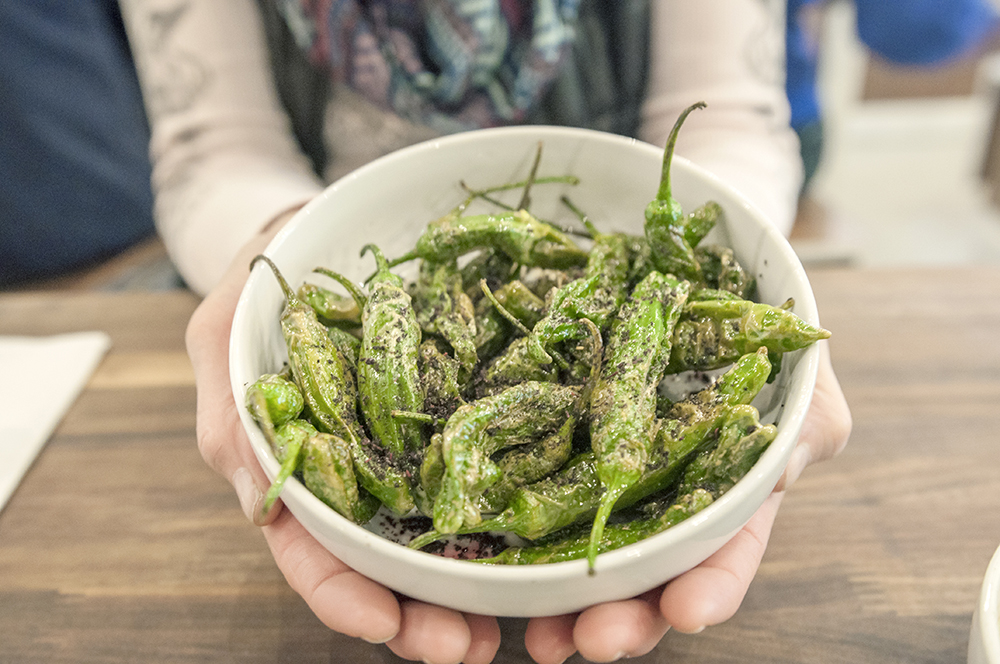 The Crispy Rice Cake is listed under Small plates, but is a plentiful helping to share. Don't be shy – break up that egg and mix it together with the chili vinaigrette and nori for the full effect.
Next up: Beer
"Chicken" Fried Tofu might be the dish I have to order every single time and not share with anyone. The tofu is crispy on the outside and adorned with a salty sweet soy caramel, mayo and spicy jalapeño. It pairs perfectly with a hoppy beer or Asahi; the beer menu features a couple of our favorite Craftsman Brewing beers California beers like Telegraph Brewing.
If tofu isn't your thing, move on to the Pork Roll – braised pork shoulder, jalapeño miso and pea sprouts wrapped in a scallion pancake. This is a favorite dish amongst meat lovers!
The Kimchi Udon Shrimp is perhaps one of the most unique dishes with a supremely creamy kimchi sauce, udon noodles and perfectly cooked shrimp topped with little bits of spam and watercress.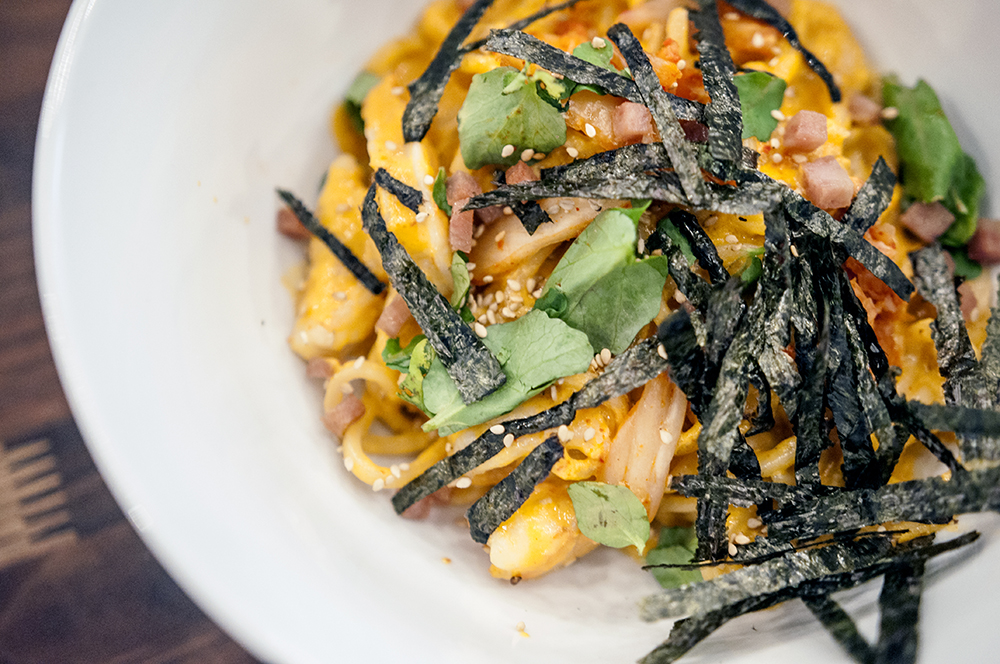 It's no secret that Angelenos LOVE their noodles. One simply cannot dine at Ozu without a bowl of ramen and a glass of cold, dry beer. There are three main options – pork, miso (vegetarian) and chicken. The Pork Ramen is a clear winner; slightly lighter than other versions you'll find around the city (Paul likes to keep the menu light), it's broth is still rich in flavor accompanied by pork belly, ajitama egg, pickles and mizuna. The Chicken Ramen has plenty of flavor but the Miso Ramen has my vote for uniqueness with tofu, spinach noodles, mushrooms, pickles and mizuna.
Without a doubt, wine is the main star on the drink menu at Ozu – the list is extensive, concentrating mainly on French and Spanish varieties; the minerals of the wine complimenting the fatty, salty and spicy flavors of the menu.
Dining is casual at Ozu and the price reasonable. Lunch is now served from noon-3:00 pm Tuesday-Sunday and features Bento Boxes with meat and vegan options accompanied by pickles, salad, miso soup and rice.
https://girlswholikebeer.com/wp-content/uploads/2016/03/OzuKitchenAtwater2.jpg
664
1000
Kelly
https://girlswholikebeer.com/wp-content/uploads/2015/04/GirlsWhoLikeBeer1.png
Kelly
2016-04-27 01:46:38
2016-04-27 01:46:38
Drink your way through Atwater's Ozu East Kitchen