Celebrate Oktoberfest in Los Angeles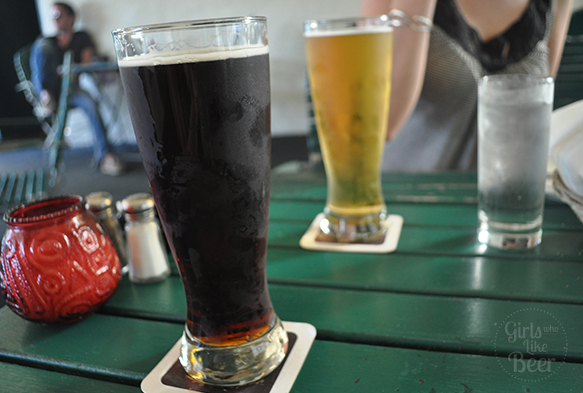 Break out the sweaters, it's finally Fall! Although the days in Los Angeles are sunny and temps are still slightly on the high side, fall beer releases and Okterbfest celebrations will not wait for the Fall weather to catch up.
Check out these great events around Los Angeles (updates made as they come), most of which will include the neighborhoods like Atwater Village, Silver Lake, and other Northeast Los Angeles neighborhoods along with the occasional foray beyond:
Montrose 36th Annual Okoberfest
Saturday, October 5, 2013 from 12 noon – 11:00 pm | Website
We've never been to the Montrose Okoberfest, but the Stein Holding and Sausage Eating contests are pretty darn appealing. Wear your best lederhosen and dirndl attire! Admission is free, and gates open at noon but beer starts pouring at 2:00 pm.
Oktoberfest at Link N Hops, Atwater Village
October 19-20, 2013 from 1:00 pm – 5:00 pm each day | Website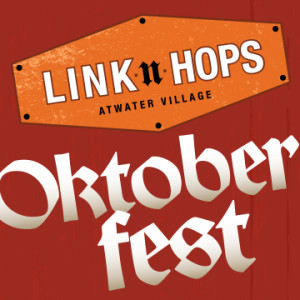 A two-day event with Bootlegger's Brewery, Hangar 24, Golden Road and New Belgium, the first Oktoberfest at Link N Hops will be held inside and outside the sausage and craft beer gastropub. Each brewery will be pouring a variety of Oktoberfest/Fall-inspired brews like Pumpkin and amber ales. Tickets include six tasters at six ounces each plus food.
We hear there will also be a classic car show in the parking lot on Saturday, October 19th, so it should be a lot of fun!
Visit the event website for more information and to purchase tickets in advance for just $27 for each day, price goes up at the door.
Oktoberfest at Angel City Brewery, Little Tokyo
October 19, 2013 from 12:00 noon – 8:00 pm | Website
Angel City Brewery will be tapping its Octoberfest beer and the Currywurst Truck will be parked outside for those delicious gourmet German sausages. Ping-ping, ladder toss, and corn hole competitions will be held throughout the day, plus the Derby Girls will be on deck.
Downtown Burbank Oktoberfest
Thursday, October 10, 2013 at 5:00 pm | Website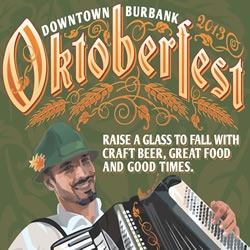 The Downtown Burbank Oktoberfest Biergarten will located on San Fernando Boulevard between Olive and Angeleno, where Stone, Firemans Brew, and Angel City will be brews into your souvenir glass. Word is Story Tavern will be pouring pumpkin beers, as well as German and American Oktoberfest beers from Ayinger and Firestone. Plus, buy any two pours from them and get a German Stein.
A $25 ticket also gets you a swag back and specials and free appetizers from participating restaurants like Granville Cafe and Wockano.
Biergarten at The Standard, Downtown Los Angeles
Open Monday – Sunday from 12 noon – 1:30 am (be aware of a possible cover late at night) | Website
Where Oktoberfest is held year-round. In tune with the theme, the staff wears dirndl printed tees, pour a small but concise selection of German beers. Seating is at communal tables, and there is a ping pong table. but the best thing about the Biergarten besides the stunning LA views is the food – a pretzel is a must, and the sausages also get rave reviews. Just don't wander too far from the garden or you'll have to transfer that Dunkel into a plastic cup.
There's only one thing wrong with the Biergarten: As warns one Yelp! Reviewer warns, the foxy lady on the venue's website does not work there.
Red Lion
Open every day from 11:00 am – 2:00 am (garden closes earlier) | Website
Another one of those year-round Oktoberfest locations, Red Lion Tavern has been around for 50 years and is one of our favorite patio spaces to drink giant glasses of cold beer. We recommend drinking a Spaten Optimator with the cheese plate and the potato pancakes, but we've also heard great things about the sausages.
https://girlswholikebeer.com/wp-content/uploads/2013/10/Red-Lion-Oktoberfest.jpg
393
583
Kelly
https://girlswholikebeer.com/wp-content/uploads/2015/04/GirlsWhoLikeBeer1.png
Kelly
2013-10-04 13:12:56
2015-04-24 09:41:05
Celebrate Oktoberfest in Los Angeles