Get ready for LA Vegan Beer & Food Fest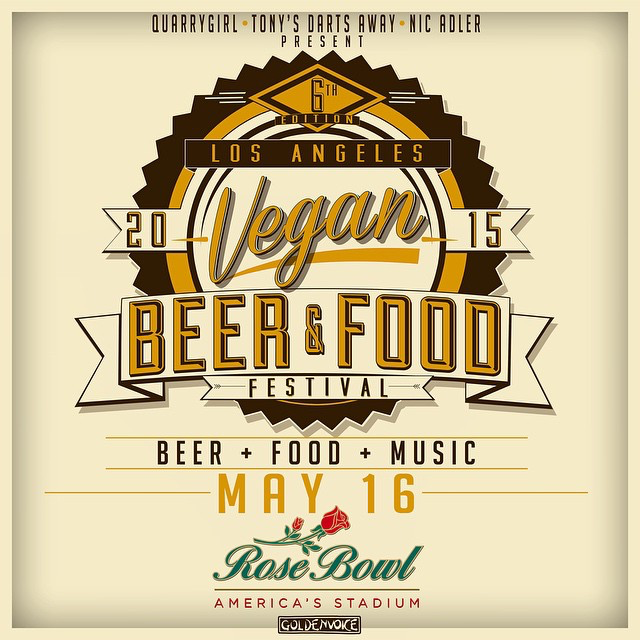 May 16, 2015 at the Rose Bowl | Tickets
Vegan or not, the LA Vegan Beer & Food Festival is truly one to look forward to each year. We had a BLAST last year sampling some super fresh brews from Noble, Eagle Rock Brewery (Ginger Saison – wow), Modern Times and other local and semi-local breweries. When the festival first started six years ago, it was held in the Roxy parking lot with a few food vendors and breweries. Now that the festival has grown in popularity, so has it in size – this year we're heading to a much larger venue, the Rose Bowl in Pasadena.
The event is a collaborative effort between three forces in the Los Angeles community – Nic Adler of The Roxy, Tony Yanow of Tony's Darts Away (also Golden Road, Mohawk Bend) and QuarryGirl, a popular vegan food writer. The idea was to divide and conquer each part of the festival – music, beer and food. Having sold out the past four years,  it's a unique idea that obviously works.
With just a couple of weeks to go, we're looking forward to a few things:
What to drink
There's a great lineup for 2015 with a few breweries new to the festival including Three Weavers, King Harbor, Bell's Brewery (which just started distribution out here) and SolArc. Soon we'll get a better idea of the taplist, but of interest so far is Ballast Point's Grunion (a fabulous summer beer), anything from Three Weavers and, of course, the tasty vegan Almond Milk Stout from Golden Road. According to LAist, El Segundo is bringing Mayberry IPA but we don't have confirmation.
What to eat
It's hard for me to leave the cool eaves of the beer tents but this year I'm looking forward to exploring more food. Last year I had this vegan "big mac" from Doomie's Home Cookin' that made me reminisce about the days I used to eat beef (but not miss it – who needs it with that deliciousness). Mohawk Bend was also on hand serving the city's best Buffalo Cauliflower. Add that to this year's return of vegan doughnuts and, yes, vegan tamales!
What to groove to
If vegan beer and food isn't enough the music lineup is pretty major with The White Buffalo and Jamestown Revival headlining along with The Drowning Men, Petty Cash, Joel Jerome and Lucy & La Mer.
Tickets sold last year out so I recommend getting on that soon – VIP tickets are already sold out and prices go up at the door (if there are any tickets left).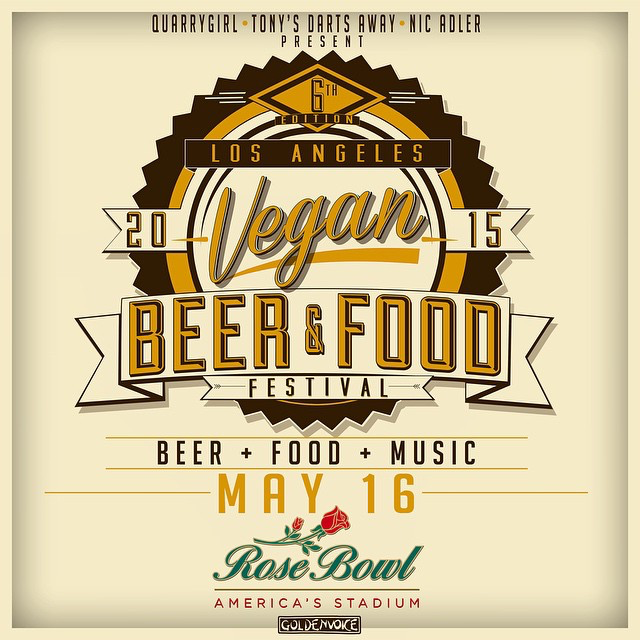 https://girlswholikebeer.com/wp-content/uploads/2015/04/veganbeerfest-918958658180387086_368521827.png
640
640
Kelly
https://girlswholikebeer.com/wp-content/uploads/2015/04/GirlsWhoLikeBeer1.png
Kelly
2015-05-01 11:38:03
2015-05-01 11:38:03
Get ready for LA Vegan Beer & Food Fest