Signs of a great LA Beer Week started at the kickoff festival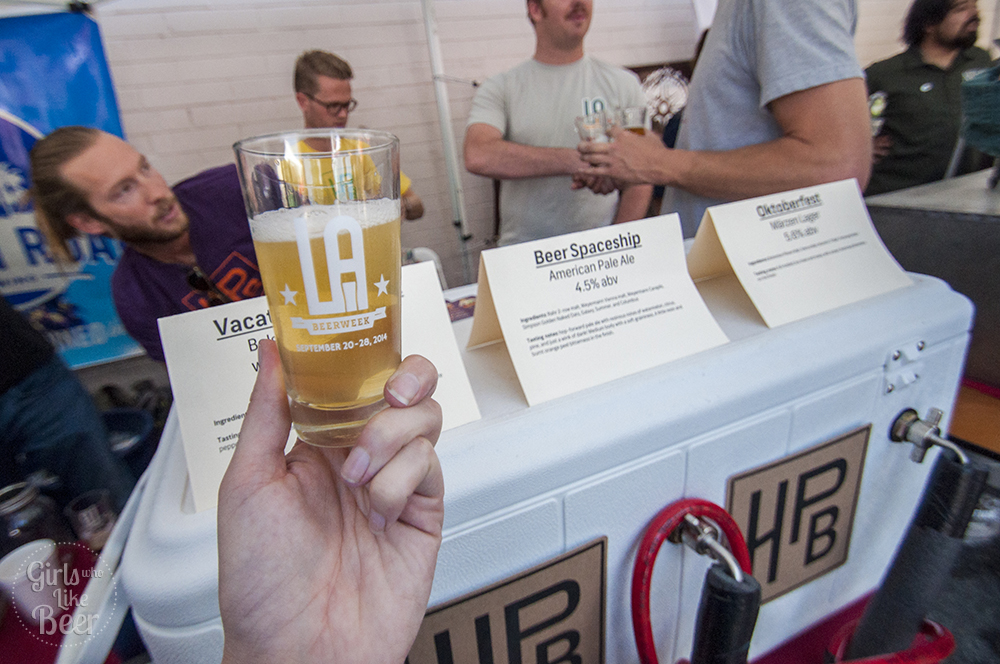 You could tell this was going to be a great year for LA Beer Week. The kick-off festival last Saturday got us in the mood with some fantastic freaking weather, special taps, great breweries and a very enthusiastic crowd. And, being the LA Brewers Guild's first year taking the helm of organizing the kickoff and beer week events, we're impressed and already can't wait until next year.
A couple of things I always critique at festivals are usually having to deal with overcrowding leading to long lines, emotionless staff/security (such a downer!) and the same beers being poured at the last festival you went to. Pretty much none of that happened – everyone was cheery, there was plenty of beer to go around, I didn't have to wait in line at a food truck and I even tried some new brews. Yeah!
A couple of very local LA brewers that couldn't make it to the festival were missed, I mean this essentially the LOVE festival for LA Craft Beer. But there were a few newcomers to the LA Beer Week kickoff (and to LA Beer Week as some of the breweries are pretty new), including:
Northeast LA's Highland Park Brewery
MacLeod Ale Brewing from Van Nuys
Three Weavers Brewing Co. of Inglewood (opening soon)
Alosta Brewing from Covina
King Harbor Brewing Co. from Redondo
Progress Brewing of El Monte
As expected, the sours were a'plenty. We started with Highland Park Brewery's Vacation with Brett (a Belgian style with Brettanomyces), ending up very shortly after that at The Bruery tent for some Oude Tart with Cherries (and of course the Sucre, the anniversary beer aged in whiskey barrels). Then to Brouwerij West for the Brilliant but Lazy and My First Rodeo sours, and The Lost Abbey's barrel-aged raspberry sour, Framboise de Amorosa. Alpine's Duet was refreshing and harmonious, while Reverend Nat's Hard Cider kicked us in the pants with a 10.2% Imperial Hopped Cider by the name of Envy. By around 4:30 (or was it 3:30?) Smog City whipped out some crazy bottles of its barrel aged beer.
After that… I recall enjoying a couple of Beachwood's Vulcanizer because heck it's just delicious.
As usual, I wish I had taken more notes and more photos, but at some point you just have to sit back and enjoy a beer fest like you're supposed to – drinking, eating and enjoying the company of good friends.
Cheers!
https://girlswholikebeer.com/wp-content/uploads/2014/09/LABW6-2.jpg
664
1000
Kelly
https://girlswholikebeer.com/wp-content/uploads/2015/04/GirlsWhoLikeBeer1.png
Kelly
2014-09-24 17:51:28
2015-04-23 01:25:03
Signs of a great LA Beer Week started at the kickoff festival