Highlights from the Firestone Walker Invitational Beer Fest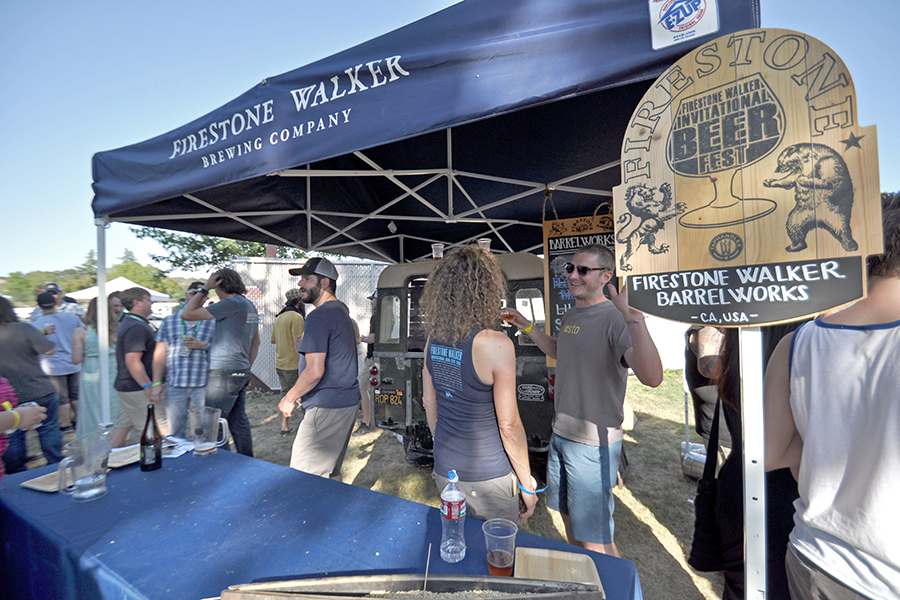 Ever have one of those months where you can't stop getting everyone's colds and all this life stuff starts happening? That's what has happened to us. Which is why we're finally bringing to you our highlights from this year's Firestone Walker Invitational Beer Festival – a month late. Nonetheless, enjoy!
—
It's difficult to sum up the Firestone Walker Invitational Beer Festival in one word, but we'll try: It was awesome. A British colleague of mine once told me to stop saying this "California girl" word so much, saying, "Awesome is a waterfall, everything else is good, great, or fabulous." Well, that must mean the beer festival was a waterfall, an awesome waterfall.
Except for one thing: As the hours passed on June 1, the slight cold I had woken up with turned into full-on bronchitis, and in the 104 degree Paso Robles heat I forgot to take a lot of photos I intended on taking, conduct interviews, or do much other than seek out those giant (and popular) outdoor air conditioners. Nonetheless, we got to taste a few favorites before the end of our first Firestone Festival, and we can't wait to go back!
One of the reasons that makes the Firestone Invitational Beer Fests my favorite of all time was the selection of breweries and beers. This isn't your average beer festival (let's be honest, some can feel repetitive if you go to enough). Each brewery is invited because they are bringing not only beer-lover favorites, but also super special brews for our festival glasses. Ticket sales are limited, so lines are manageable, and there are enough breweries to serve a variety of enthusiastic festival-goers.
Plus there is food – delicious food! So it was a little hot standing in line by Full of Life Flatbread's wood-fired pizza oven (holy hot!), but the flatbread was a must-have along with other local vendors offering avocado ice cream, gumbo, chicken skewers, and vegan eggplant curry (yum!).
In total, there were 40 breweries and 20 food vendors, and accomplishing them all in just a few short hours (things shut down promptly at 5) is a challenge. You don't have to bring cash for any of these items, it's all included in the ticket price unless you buy swag or special bottles. Through the heat, the alcohol, and all the DayQuil I was consuming, here's what we remember from the best beer fest ever.
Russian River Brewing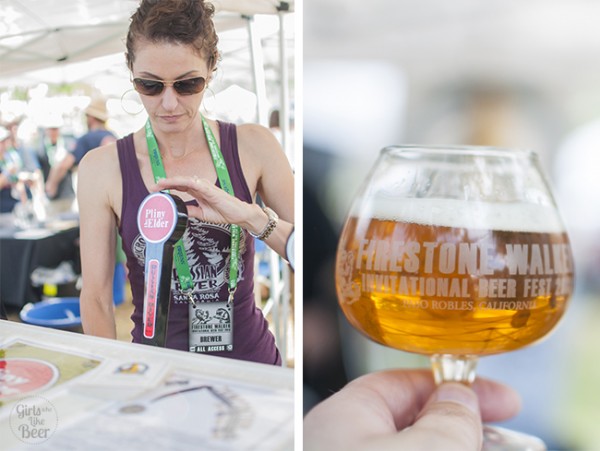 Ah yes, Russian River Brewing – you tantalized me when I first visited your brewpub in Santa Rosa. The beer! The food! The atmosphere! But your coolers and ice buckets of delicious specialty beers (hellllooooo Supplication!) would suffice, for the Pliny The Elder and Temptation Sour Ale were the reason this booth was our first visit at the Invitational, and it was worth it. Pliny is definitely one of the best IPAs out there, as the line throughout the whole fest proved.
More after the jump, and be sure to visit our Facebook page for the full photo gallery!
Kern River Brewing
Kern River Brewing's Citra Double IPA flew off the shelves of our local beer stores, and, no surprise, this favorite of ours is a 2011 Great American Beer Fest Gold winner. Which is why it was our second stop before the doors opened, perfectly drinkable for the extremely hot afternoon weather. Also on tap was the brewery's seasonal Single Track Pale Ale, a session IPA at 5.3% brewed with Mosaic hops.
Mikkeller
Mikkeller was a big hit for us all. Not only are they a phenomenal "gypsy" brewery originally from Denmark (my first and favorite is the Coffee IPA), the big feature at the fest was the Lil' Mikkel – a 7.1% Farmhouse Saison and collaboration with Barrelworks. According to the fest brochure, it's aged for eight months in 17-month-old French Oak barrels from the 2010 Opus One vintage.
On top of that, I actually drank a lambic, and enjoyed it (gasp!). Mikkeller's Spontancherry (pictured above) is an 8.2% collaboration with Frederiksdal Cherry Winery in Denmark. Despite its dark cherry colors, the fruit is actually quite mellow, certainly not overly sweet, but nice and tart and full-bodied.
When we first went to the Mikkeller booth, it was un-manned. Now we didn't know it at the time, but according to The Beer Goddess article the Mikkeller duo Mikkel Borg Bjergsø and Tore Gynther weren't actually allowed to pour their beers because of Visa issues! Guests were able to pour their own after they turned the cooler around for some self-pouring action.
Three Floyds
Apart from Russian River, it appeared that the most coveted brewery was Three Floyds and its barrel aged beer the Dark Lord. Brewed with Intelligentsia coffee, Mexican vanilla, and India sugar, the Russian Imperial Stout is available only one day a year in April ("Dark Lord Day") and only at the brewery, which is located in Munster, Indiana. When the line looked to be about 100 people deep, we knew it was a popular beer.
As the day went on, we were stoked to drink a few more favorites and specialty beers, like Stone's Ruination IPA Tropical Heat Edition, Southern Tier's (a new favorite brewery of ours) Schizophrenia Imperial Chocolate Stout, Pizza Port's El Toronado Imperial IPA, Alesmith's Cream Ale and Wee Heavy (plus they poured a variety throughout the day), and Beachwood BBQ & Brewing's Hop Ninja.
Boulevard Brewing Company has become one of my favorite breweries – you can pick up a variety of their brews from craft beer stores around Southern California, but this Kansas City brewery has some special offerings that rarely make their way here. On tap at the festival was the Test Nelson Grape Ale, a session beer that "combines Muscat grape juice with wort using our base pale malt," and was surprisingly delicious (or was it the 104 degree heat or the severe cold?). The Saison-Brett perked my interest as it's very similar to their Tank 7, and is nice and dry with a Brettanomyces wild strain of yeast.
There were just so.many.more.beers. Thank you, Firestone family, for a fabulous weekend. Next year we won't be sick!
Lessons learned
For the next Invitational, here's what I have on my list of things to pack:
Make a pretzel necklace (that was a duh moment)
Girls Who Like Beer swag
An outfit that is easy and breezy
A backpack with ice and water bottles
Be sure to visit our Facebook page for the full photo gallery!
https://girlswholikebeer.com/wp-content/uploads/2013/07/Invitational2013featured.jpg
600
900
Kelly
https://girlswholikebeer.com/wp-content/uploads/2015/04/GirlsWhoLikeBeer1.png
Kelly
2013-07-06 19:38:33
2015-04-24 09:45:26
Highlights from the Firestone Walker Invitational Beer Fest