Beer fact Friday: How Milwaukee became famous for beer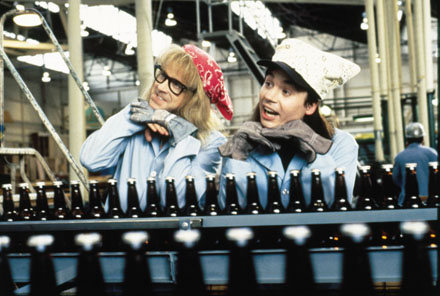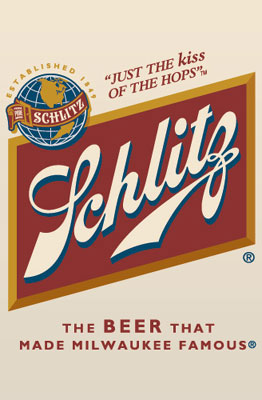 Familiar with the slogan, "The beer that made Milwaukee famous"? It belongs to the one and only Schlitz – a Milwaukee brewery that's been around since the mid-1800s. At the start of the 20th century, Schlitz was the world's top beer producers, making over 100 million gallons a year, and is now owned by Pabst Brewing Company (which also owns Old Milwaukee).
Aside from being the top dog of beer (often knocking Anheuser-Busch off the totem pole), one of the major contributing factors to the brewery's prominence was a major moment in history: The Great Chicago Fire of 1871. Owner Joseph Schlitz donated thousands of barrels of beer to the city (one story cites the fire fighters as being specific recipients), which had just lost five of 12 breweries and the city's drinking water infrastructure. Thus was born loyal customers in Chicago, and sales boomed when Schlitz opened "tied-house" bars across the city.
This is why Schlitz is the beer that made Milwaukee famous.
Visiting Chicago or Milwaukee? Many of the Schlitz buildings still don the brewery's iconic logo, and 41 buildings ("tied-house buildings) once operated by breweries like Schlitz still stand. Lots of great history there, send in your photos if you have them!
Bonus facts!
When Wayne and Garth visit Milwaukee in Wayne's World, they parody the opening credits to TV show Laverne & Shirley. The scene shows female duo going to work at a fictitious Shotz Beer brewery (ahem, very Schlitz-sounding, no?).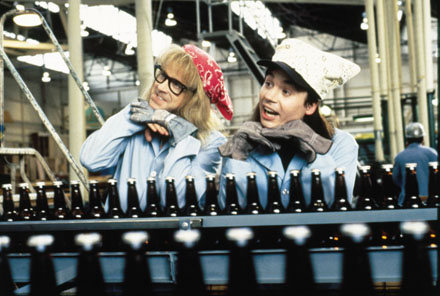 https://girlswholikebeer.com/wp-content/uploads/2013/05/waynes_world_conveyor.jpg
296
440
Kelly
https://girlswholikebeer.com/wp-content/uploads/2015/04/GirlsWhoLikeBeer1.png
Kelly
2013-05-24 17:25:52
2015-04-24 09:45:12
Beer fact Friday: How Milwaukee became famous for beer