Happy Hops Day: 5 IPAs to try for IPA Day 2012
There are many reasons to love IPAs, and this is the perfect time of year to pop open a nice dry, light in color, and hoppy brew on the porch. And since today is IPA Day, we're celebrating with our top five IPAs to look out for as you celebrate.
Don't know much about IPAs or IPA Day? Click here for the IPA Day website.
Tap It Brewing IPA
Made in SLO (San Luis Obispo for all you newbies), this IPA will conjure memories of cool nights overlooking the ocean and cliffs of Northern California's coast. It pours darker than most IPAs, almost a little amber-colored, and finishes with a woodsy flavor. Get it at some stores with a craft brew selection (like Silverlake Liquor), or enjoy it on the patio of restaurants like Good Microbrew and imagine that salty NoCal coastal breeze as you sip.
A regular visit to Eagle Rock Brewery keeps the doctor away! While we're always interested in the guest taps at the Eagle Rock/Atwater Village adjacent establishment, the brewery's own beers are consistently satisfying. Populist isn't so incredibly over-hoppy, which is why I like it. They describe it as having flavors of "orange blossom, pine, and freshly cut grass." Great for a summer day. They've also got a Ginger Saison that's worth trying a glass, it was one of my favorites at a recent brewery visit. Don't forget these guys were really part of, if not the beginning of, the brewery movement in Los Angeles, and were the first brewery in LA to open in 60 years.
Co-founder Ting Su runs a monthly Women's Beer Forum that is becoming more and more popular – be sure to keep an eye out on their website to get yourself a spot.
Drake's won its way into our hearts with its incredibly smooth IPA. The Bay Area brewery (San Leandro, to be exact) describes its "West Coast" IPA as having a "pine and grapefruit" aroma with dry hops. At 7% ABV it's a strong one!
You can pick this up in a mix-n-match six pack at Bill's Liquor in Atwater Village, and we suggest throwing in a couple of Drake's 1500 Pale Ale while you're at it.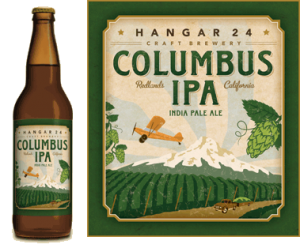 Hangar 24 Columbus IPA
Back in the day, this beer was the first IPA that I actually really liked – at that time having been "over" the over-hopped California craft beers that kept winding up in my pint glass. Watch your pours – this one's another 7% IPA.
Columbus IPA is on tap right now at Mohawk Bend, which is celebrating its one-year anniversary with some freebies. If you hit up the restaurant on Mondays through August, you get a free Buffalo Cauliflower dish with your order (which are pretty much AMAZING).
Deschutes is one of those breweries that rarely disappoints – most recently it won The America's Best IPA Pale Ale at the 2011 World Beer Awards. Named for the weather phenomenon where clouds (or in Los Angeles, smog) are trapped along the bottom of mountains, leaving the mountaintops clear (hence the label artwork). We're to assume that this reference to the deviation of normal weather conditions applies to our expectations of IPAs – this one is complex, pours an amber color, and a little less dry than our usual (the hops is a little more soft and caramel tasting).
The website suggests pairing Inversion IPA with Seven Layer Dip, Blue Bacon Burger, and/or Hop Infused Cheesecake (we'll take all of the above).
Enjoy your day of IPA!
https://girlswholikebeer.com/wp-content/uploads/2012/08/hops.jpg
602
900
Editor
https://girlswholikebeer.com/wp-content/uploads/2015/04/GirlsWhoLikeBeer1.png
Editor
2012-08-02 12:05:58
2015-04-24 12:28:50
Happy Hops Day: 5 IPAs to try for IPA Day 2012